Immersing into creative innovation pathway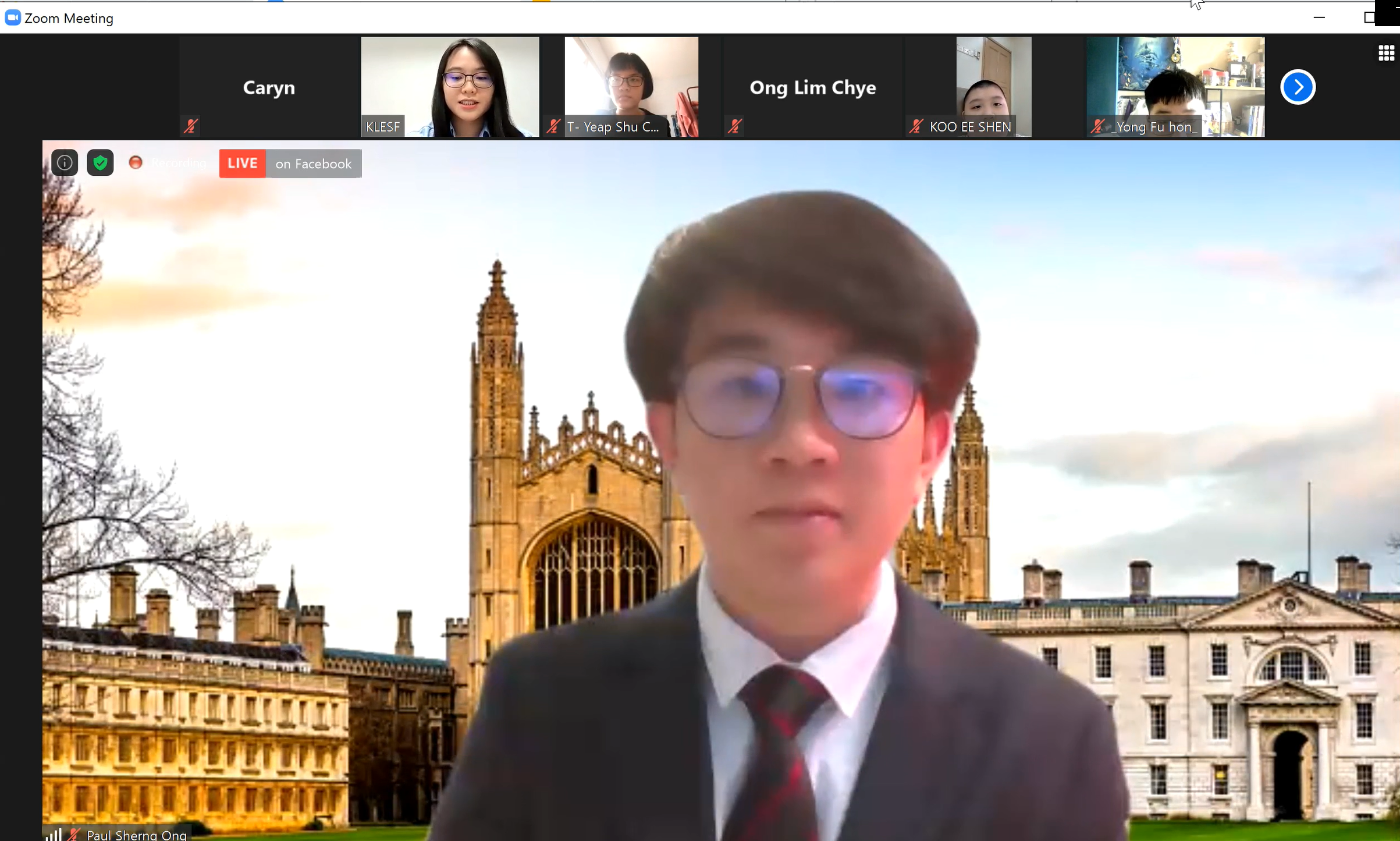 Ong during the Q&A session
In conjunction with Minggu Sains Negara (MSN 2021), Kuala Lumpur Engineering Science Fair (KLESF) in collaboration with UTAR, Ministry of Science, Technology and Innovation and Malaysian Industry-Government Group for High Technology (MIGHT) organised a series of Science, Technology, Engineering and Mathematics (STEM) webinar from 2 to 7 April 2021 via Zoom and Facebook Live. The series of webinars aimed to create critical thinkers, increase science literacy and enable the next generation of innovators while promoting STEM education to the public.
The first webinar, held on 2 April 2021, was presented by KLESF International Challenge 2017 and 2020 Gold Winner Ong Paul Sherng who is currently a student at Epsom College, Malaysia. His presentation titled "Immersing into Creative Innovation Pathway: Mobility Crusader" saw about 100 participants.
In the webinar, he spoke about mobility crusader, immersing into creative innovation pathway and how to be a change-maker in 2021. Ong said, "My main motive in the field of innovation and invention is to create genuine solutions from the world's most pressing issues."
He started with his science fair project which later sparked his passion to address the global issues with an affordable, reliable, robust solution for solving these obstacles. He said, "These include my scientific research on developing medical equipment to empower cancer cell early diagnosis and treatment with the integration of artificial intelligence and computational imaging system."
He developed the medical equipment after learning that his grandfather was diagnosed with osteoarthritis and realising that elderly falls are the second leading cause of unintentional or accidental injury deaths worldwide. "The objectives were to invent an assistive device by applying stability concept with the integration of ultrasonic and gyroscopic fall detection system and develop a framework that provides navigational assistance, coupled with "Safe Me Before Fall" on Android Apps. At the same time, I wanted to design a robust system with high-reliability fall mitigation and one capable of simultaneously sending warning notifications. By inventing this system, we are able to keep the elderly safe, healthy and independent," said Ong.
In the webinar, he also spoke about rapid ageing, life expectancy, Parkinson disease and mobility impairments. "A changemaker means to align passion with your wanting to do good, to make a breakthrough for this world. Being a changemaker means someone who is able to inspire others, being able to adapt to the changes around you and being the change that you want to see. Remember, action speaks louder than words. Have empathy for others, identify the opportunity or problem to tackle and do something about it. Keep trying until you make a difference," added Ong.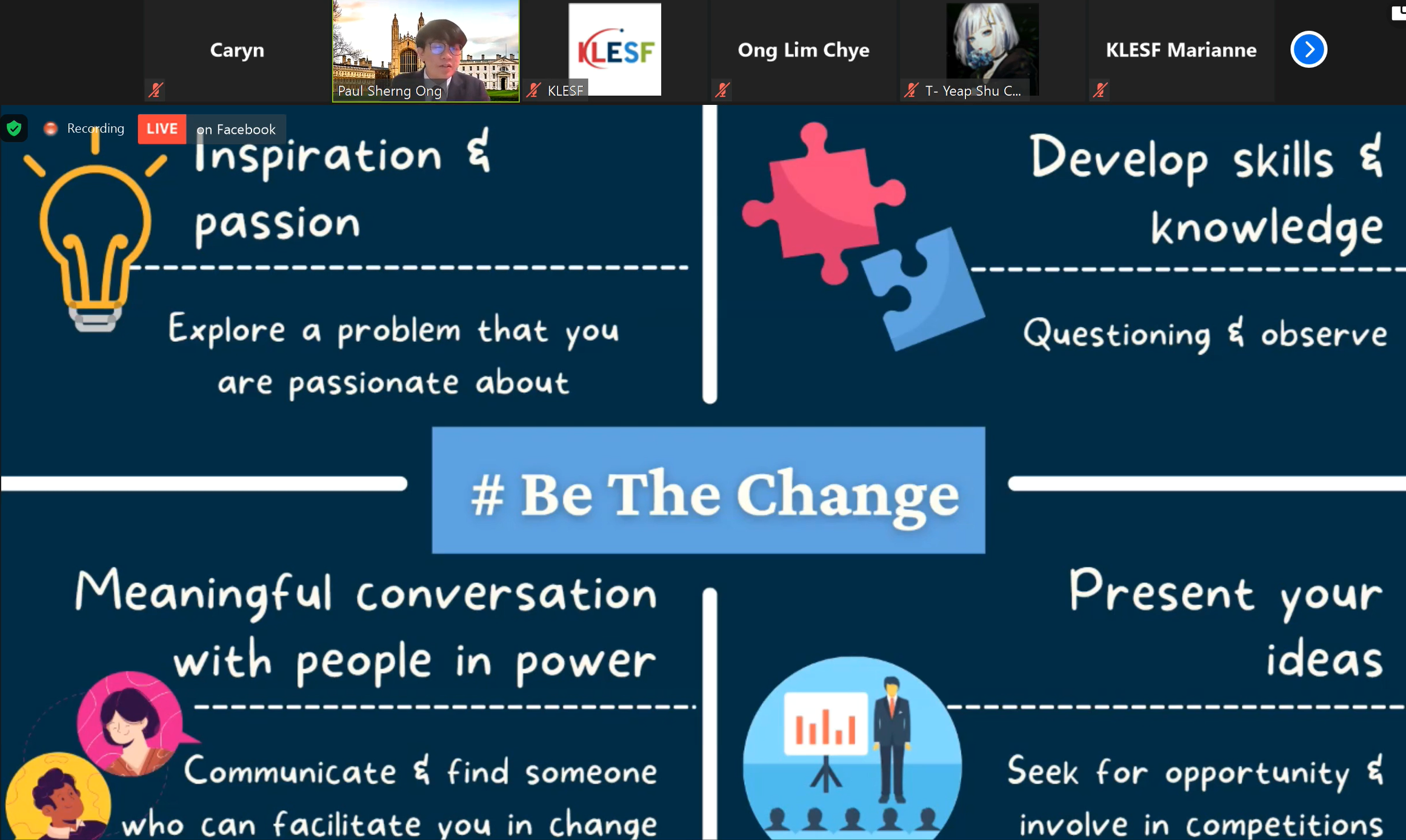 Ong explaining what it takes to make changes to the world
Ong is a Malaysian-Chinese student researcher, entrepreneur and inventor. He is also the Chief Executive Officer & Founder of Cambridge Global Institute (CGI). He was the invited speaker at the 2020 IEEE Electron Devices Technology and Manufacturing Conference (EDTM) and has spoken in conferences around the world. His internationally-recognised scientific research has been presented and awarded top honours at the Taiwan International Science Fair, International Innovation and Invention Competition in Canada, World Innovation Invention Competition, Asia Pacific Science Conference for Young Scientists, Asia Pacific ICT Award, ACCCIM Science Technology Innovation Competition, Tan Kah Kee Young Innovator Award and many more. CGI assists teenagers to discover their potential in STEM through a Globalised Premier Enrichment Platform. CGI aims to nurture the next generation of talented youths by providing the necessary tools to turn students' ideas into reality.
Other STEM webinars:
How to surf safely without being eaten by sharks-Internet Security 101
Could you see the DNA of living things?
Creating Professional Brochures using Microsoft Publisher in Few Clicks